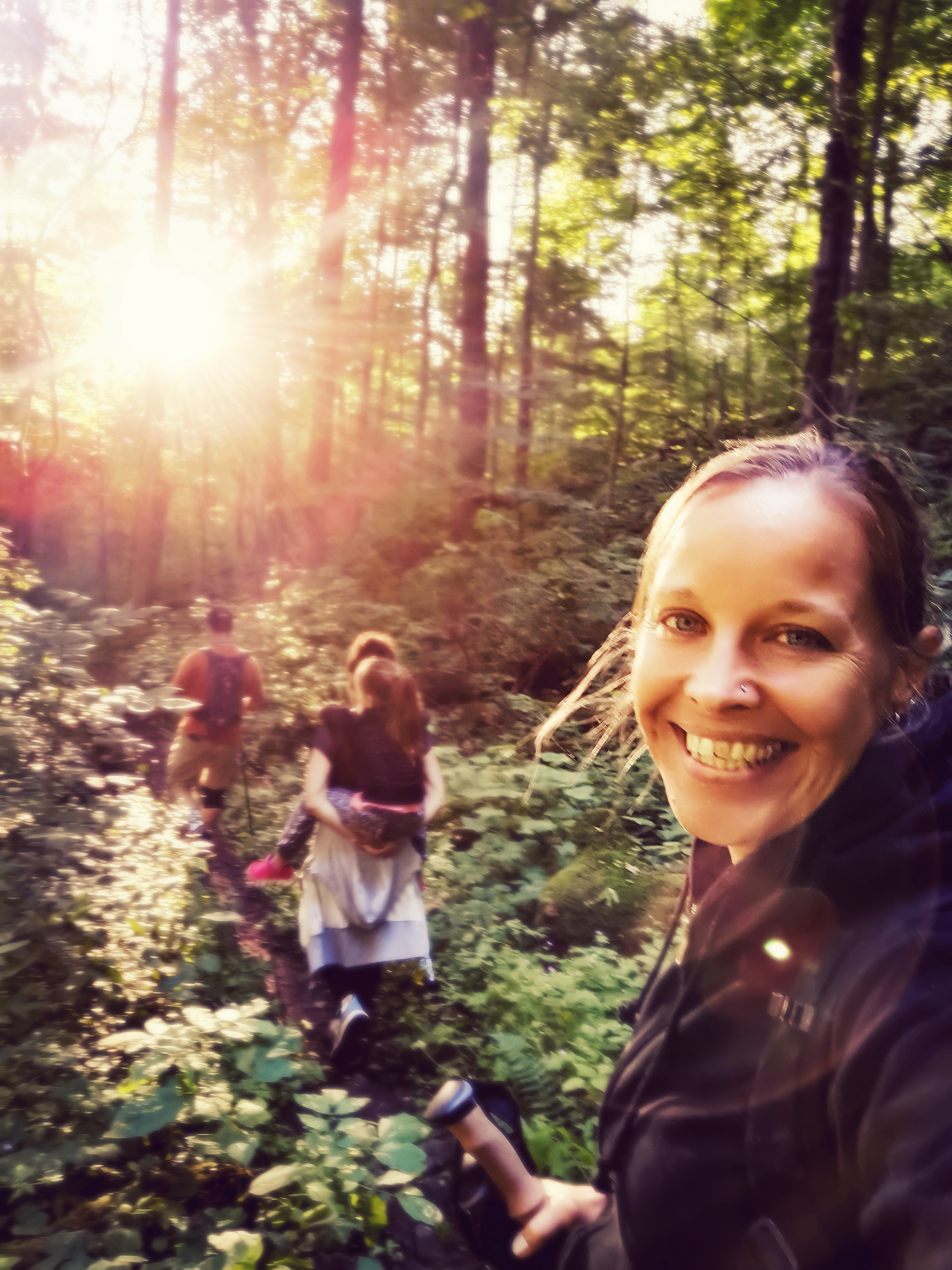 "

Yesterday I experienced something so simple, yet so profound that today I remain in awe. It was just a hike, just putting one foot in front of the other on a trail through the forest. Just conversation between friends. Just a regular day. Then Jaia invited me to try a simple visualization exercise. She spoke, we walked, I imagined. In only a few minutes, we were still walking, still putting one foot in front of the other, but I was different. Changed by only words and thought. As Jaia continued to guide me with her words, I uncovered what my soul had been looking and longing for, for many years. There were tears and jumping, laughter and celebration. I kept asking, "How can it be that simple?" Many years of counselling hadn't brought me to this point. I had goose bumps when I realized what this breakthrough meant for me, meant for my life and those that share it with me. I tried to find words big enough to thank Jaia, but they don't exist. I reveled in the fact that I knew the path forward.  Jaia reveled in my joy.

" Sue Benner Johnsen, teacher
 The Empowerment Process is fully guaranteed to produce immediate results that are tangible right away. This is a lifechanging tool you will take with you that will help you reach any future goal for the rest of your life.  This is not work. This is not a meditation.  This method is not known in the medical community and you will not find it on youtube.  It is a clear cut way to restore the best version of who you desire to be right away.  Results are immediate and tangible!  It is available to anyone who can visualize. 
What is the Empowerment Process?
It is a powerful, (copyright protected), visualization that I teach my clients.  And then I teach them exactly how to use it.  It is a tool that immediately gives my clients a distinct advantage in life that they will have never experienced or used before because the technique is original.  It's a practical, easy, yet tangible way to produce an empowered you for any situation, when you need it.  It's fast!  The process helps you gain control over your thoughts and emotions to become the best version of you that you want to be in the world right now.  Whether this means you have all the patience you need when dealing with a difficult person, the increased confidence you desire to stand up in front of a crowd for your presentation, a happier you in your daily life or just being able to shift into a greater self awareness when you need it, you will find yourself engaging in your own life in a totally empowered way.  It helps you become more observant of your relationship patterns with others.   You become better at self soothing and inspiring yourself to become the change you want to see in the world .  It is a form of psycho\emotional empowerment they don't teach us in the world today, using a simple visualization and it is only available through Jaia.
 available over the phone or internet
Special Limited Time Offer - $500 for the introductory series which includes: 
3 appointments in total, 
program is valued at $5000 per person (sliding scale may be available)
Private Empowerment Appointments weekly or monthly
$200 per one hour session after you complete the introduction package (sliding scale may be available)
The Empowerment Program is a core based, therapeutic process that will remove what is blocking you from being empowered in all your life situations and help you create the new empowered you to redesign your life to be how you want it to be.
Examples of past and current client goals achieved:
- say goodbye to old addictions
-heal decades old traumas and recent traumas
- stop the flashbacks
--understand and overcome anxiety
-end feelings of loneliness
-leave depression behind once and for all
- heal sensitive relationship issues
- from codependancy to healthy relationships
- become more confident
- become more financially stable 
- create and become the new empowered YOU
-draw in your soul family support system
-create lasting and permanent change to your life
- become empowered in your career
-connect with clients who love and appreciate you and your work
-find and create your soul's vision and turn it into reality NOW
- focus on changing your life into your wildest dreams
-become the happiest version of you
- experience real and rapid growth where you are always in charge
-experience yourself in a totally empowering way
- Be The Person YOU KNOW YOU ARE DEEP INSIDE
-Permanently change your life for the better
- Save hours and $$$ spent on classic therapies that take more time to complete and longer to produce permanent life change, if they do at all!
Instantly feel yourself change!  The feeling IS Instant!
*full money back guarantee does not apply if you are not open to freeing yourself of old blockages and changing your life into a life you love once and for all!!!
Thank you for your inquiry to Jaia Konik. Jaia typically responds to all business inquiries within 48hrs during the business week.