Over the past three years Jaia actively pursued and went through a kundalini awakening, her past life memories of Lemuria/Atlantis surfaced and other time periods where she played similar roles as a psychic intuitive and healer or a shaman.  Many of these memory sessions are posted to her
youtube channel
 as she did enlist the help of past life regressionist,
Marilyn Kaufman
  in order to go deeply into the truth of her past lives once the memories began surfacing on their own.  Confirming what has been a magical experience for Jaia.  But she does not require any hypnotism or therapy in order to read the lives of other people.
Her ability to connect to past times is a skill which Jaia uses to channel the symbolism which she paints into all of her own art work.  During her awakening her light language was confirmed by a number of healers, including
Susie Beiler,
 who runs 
The Creation Temple
, based out of Sedona.  Susie produced a documentary in which Jaia and her artwork is featured. 
Follow this link to the full video on youtube here.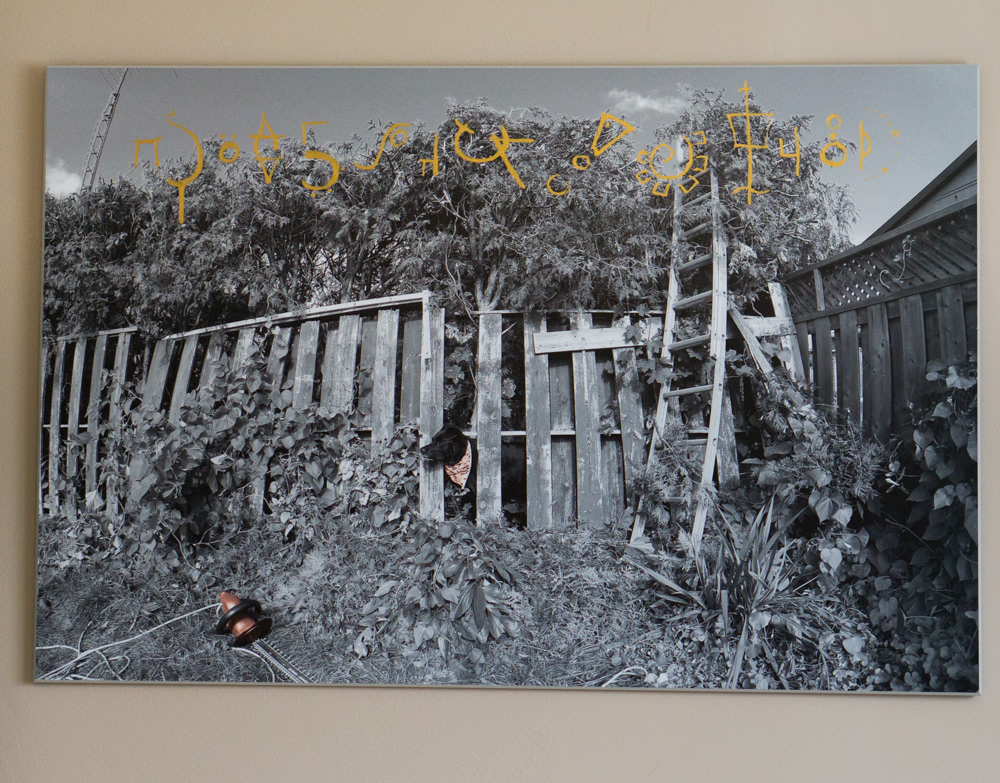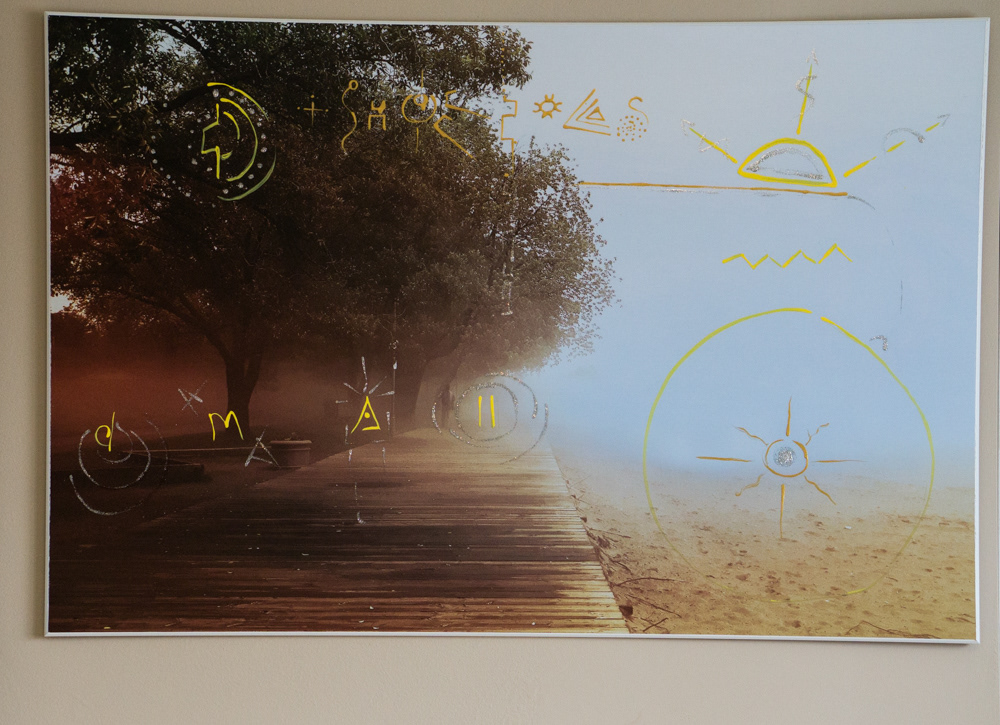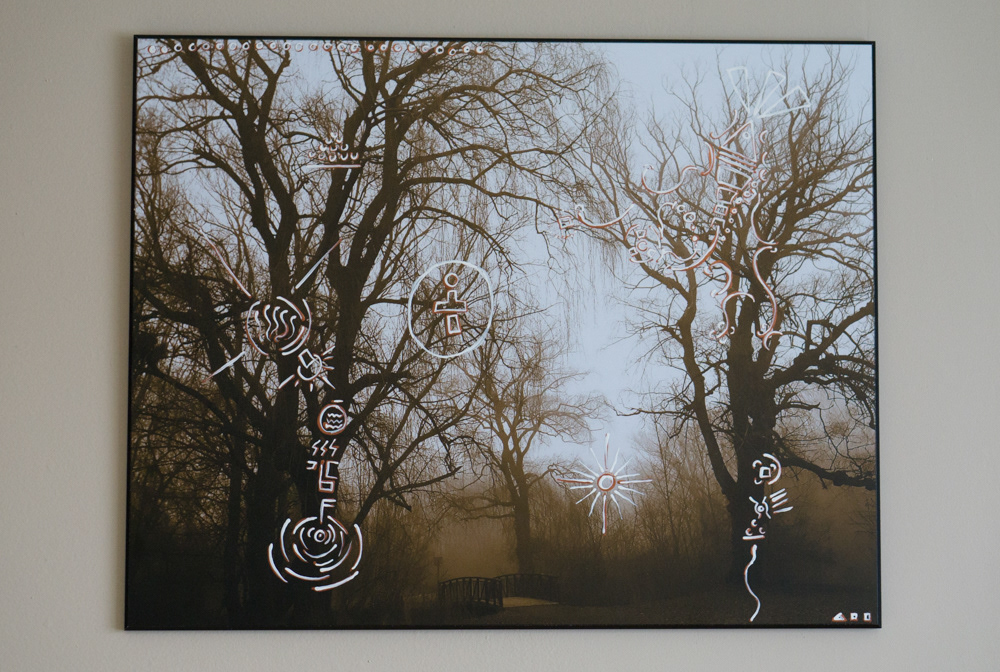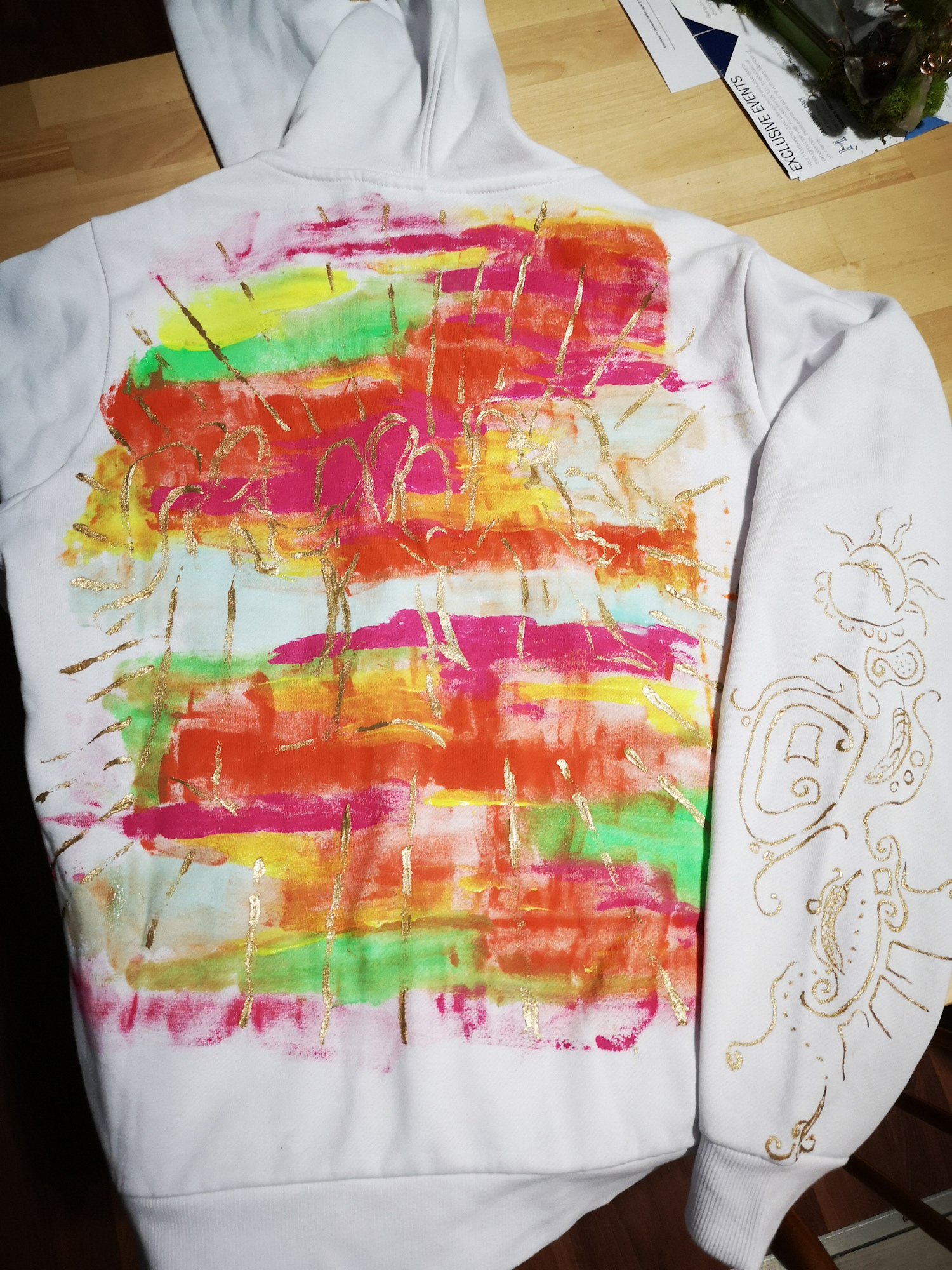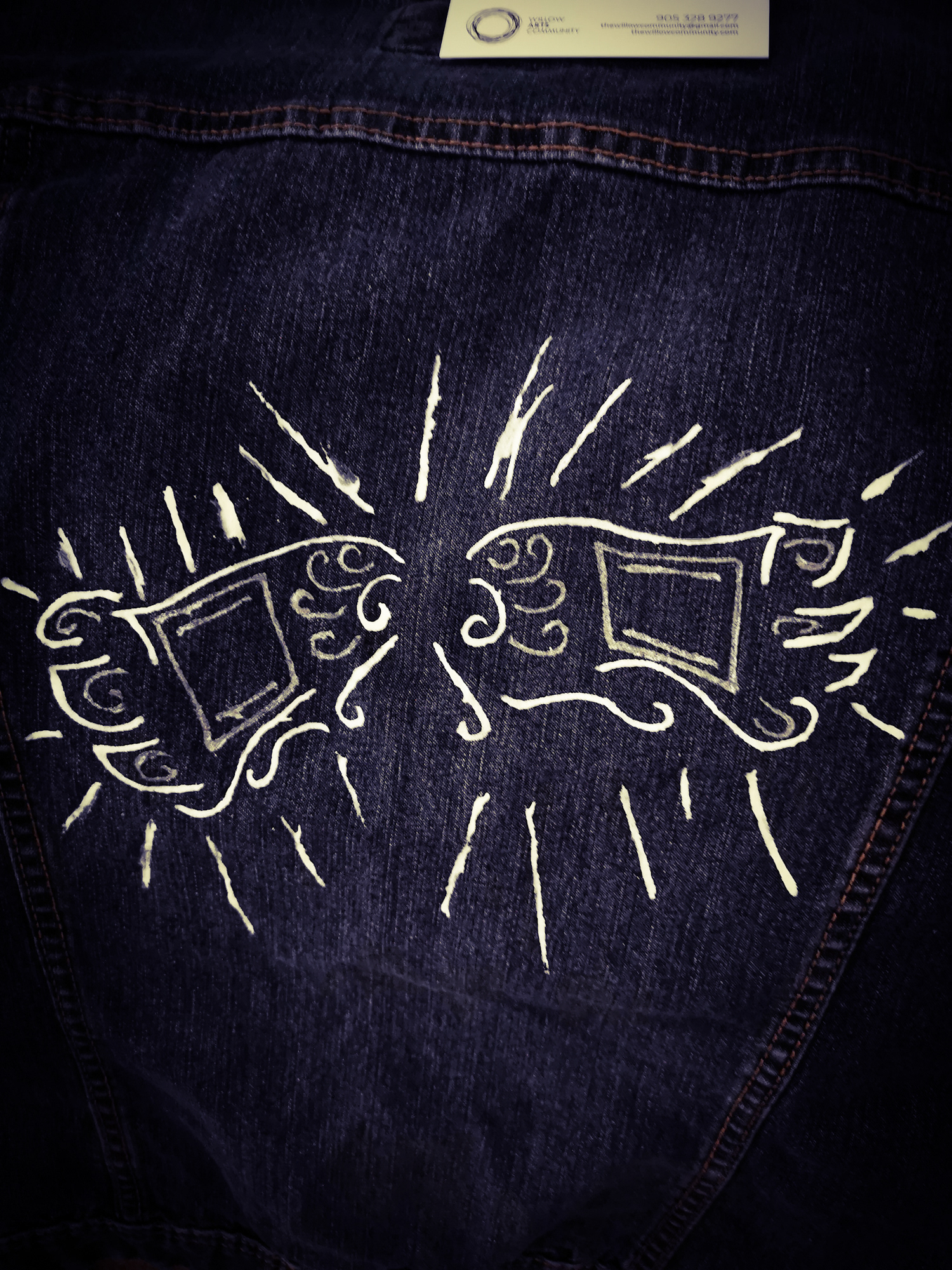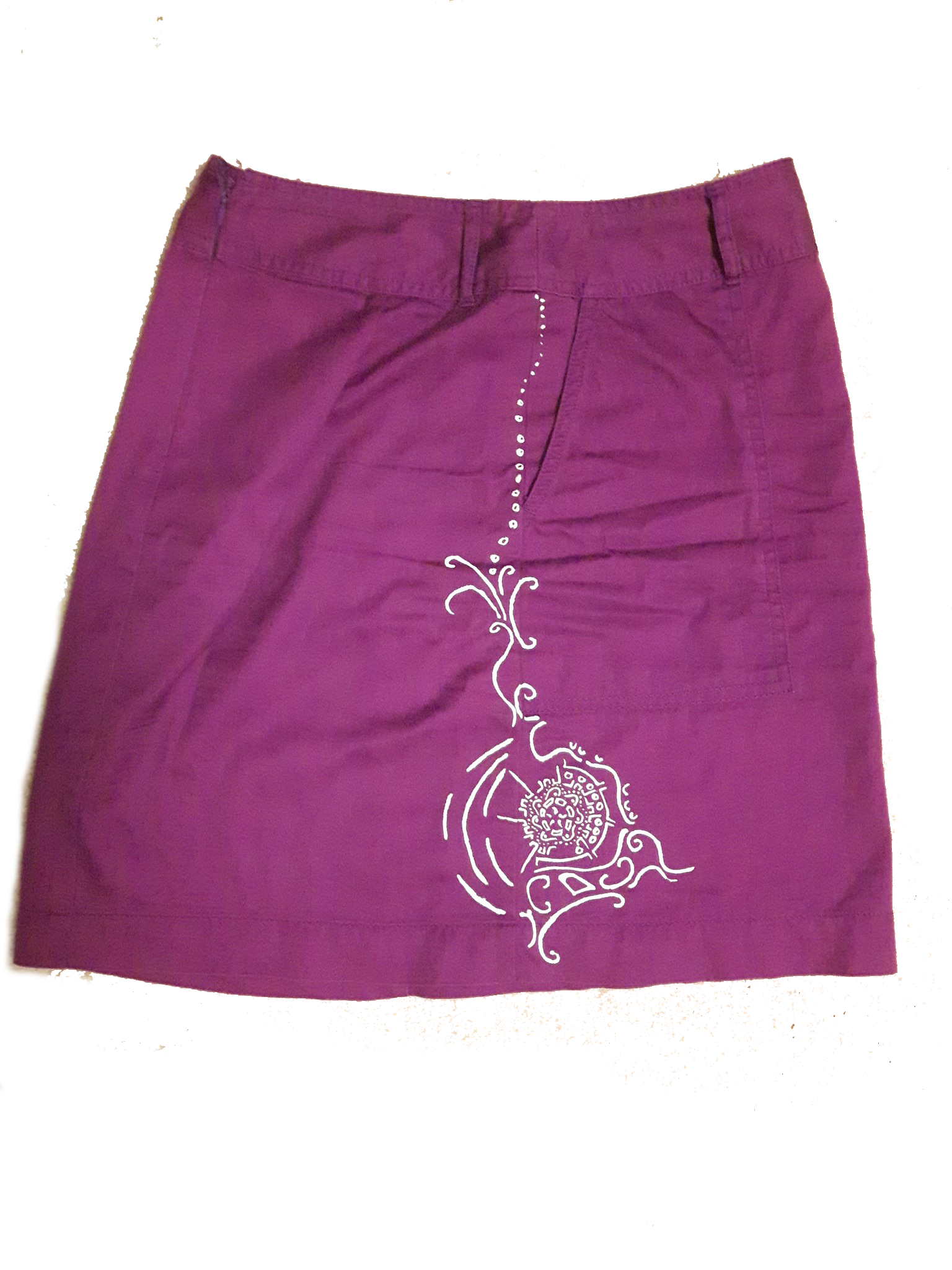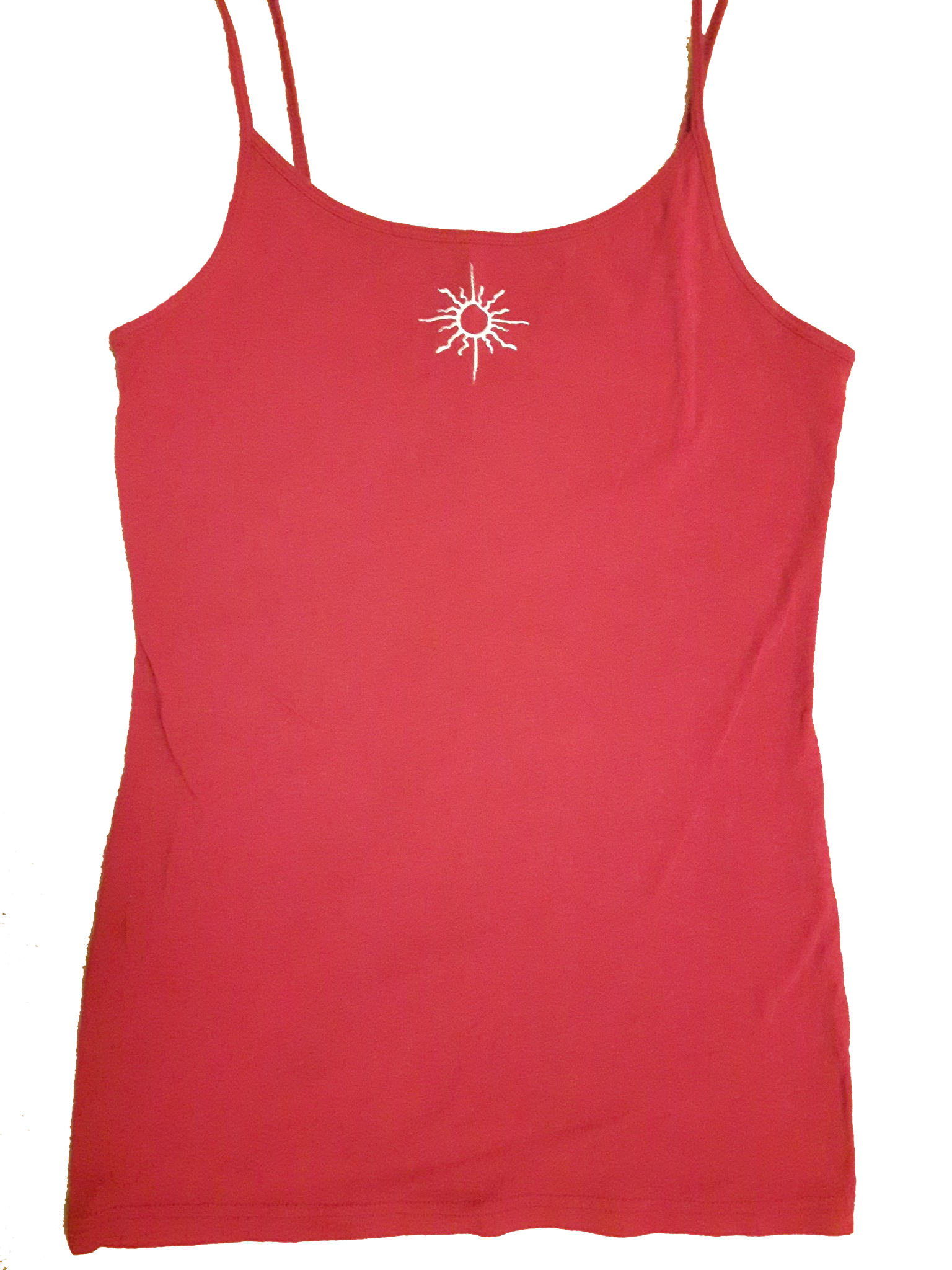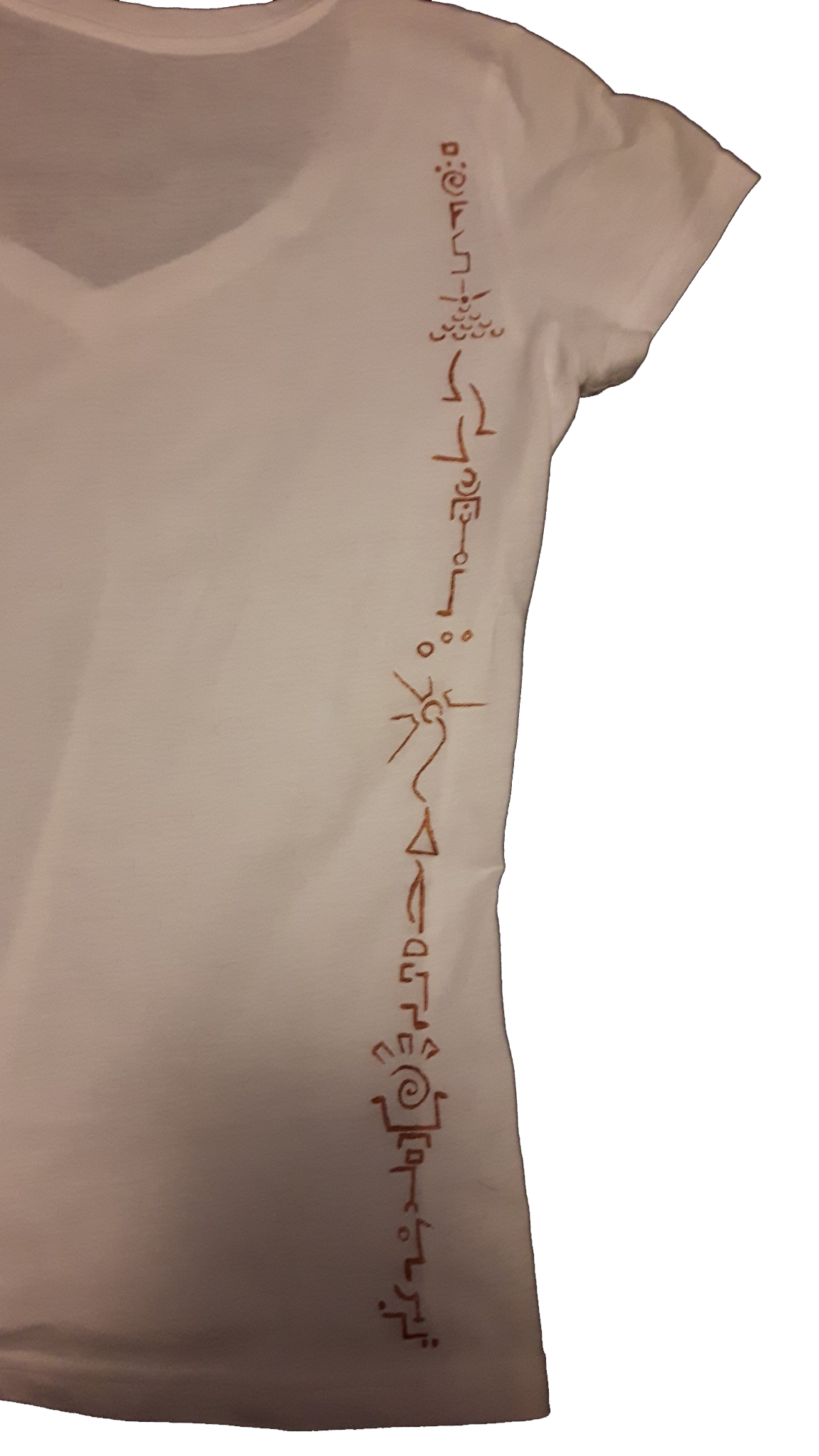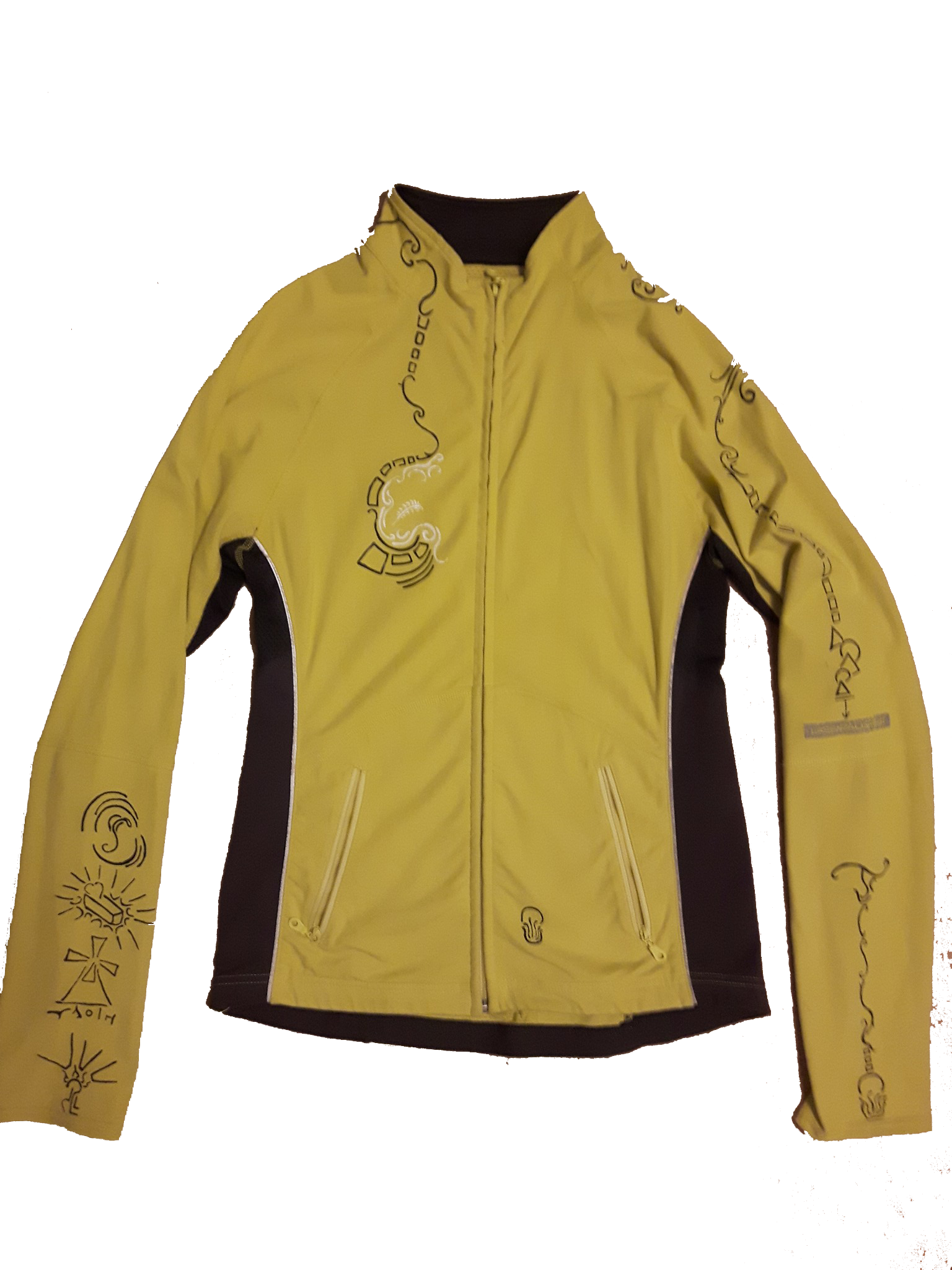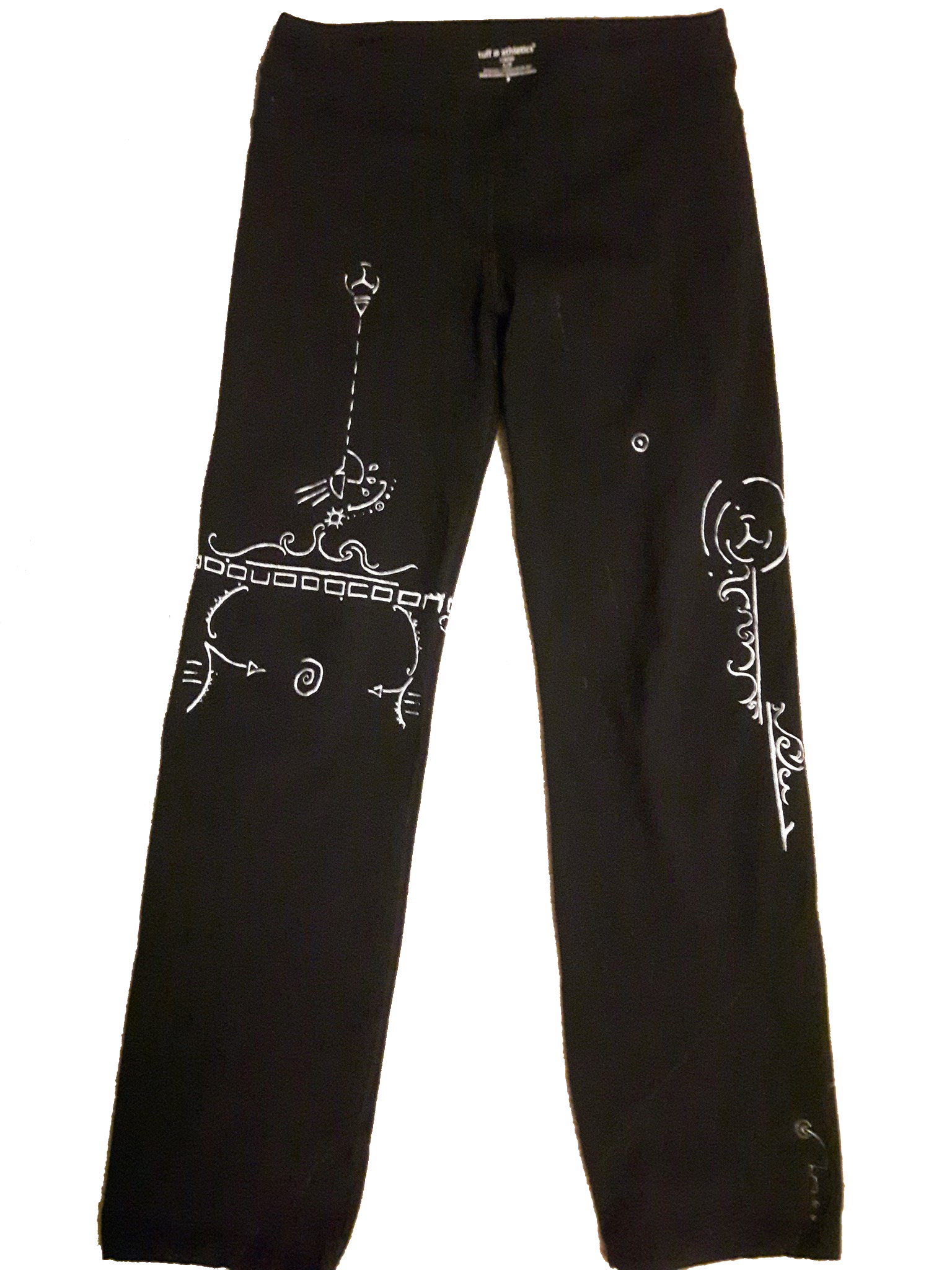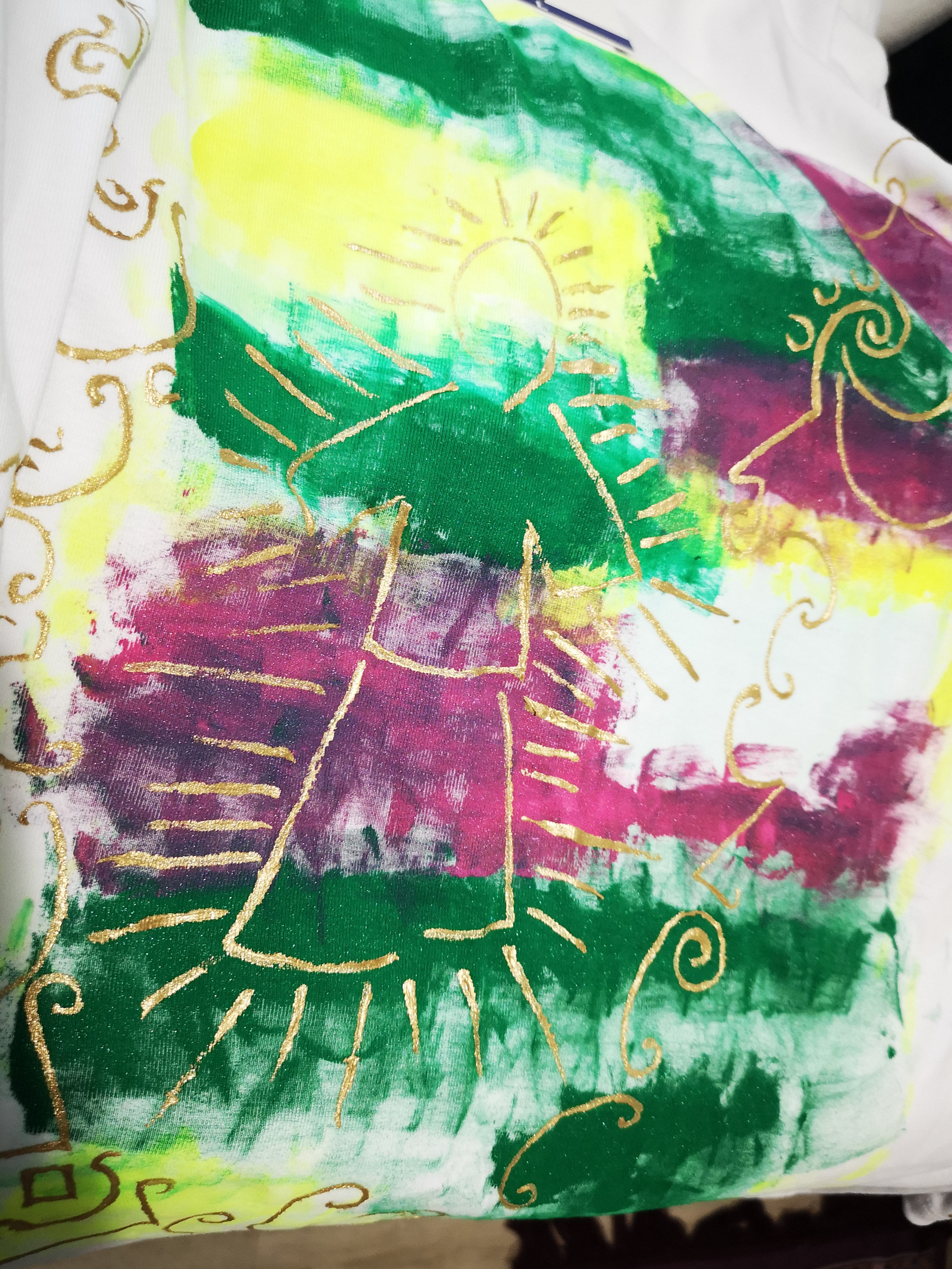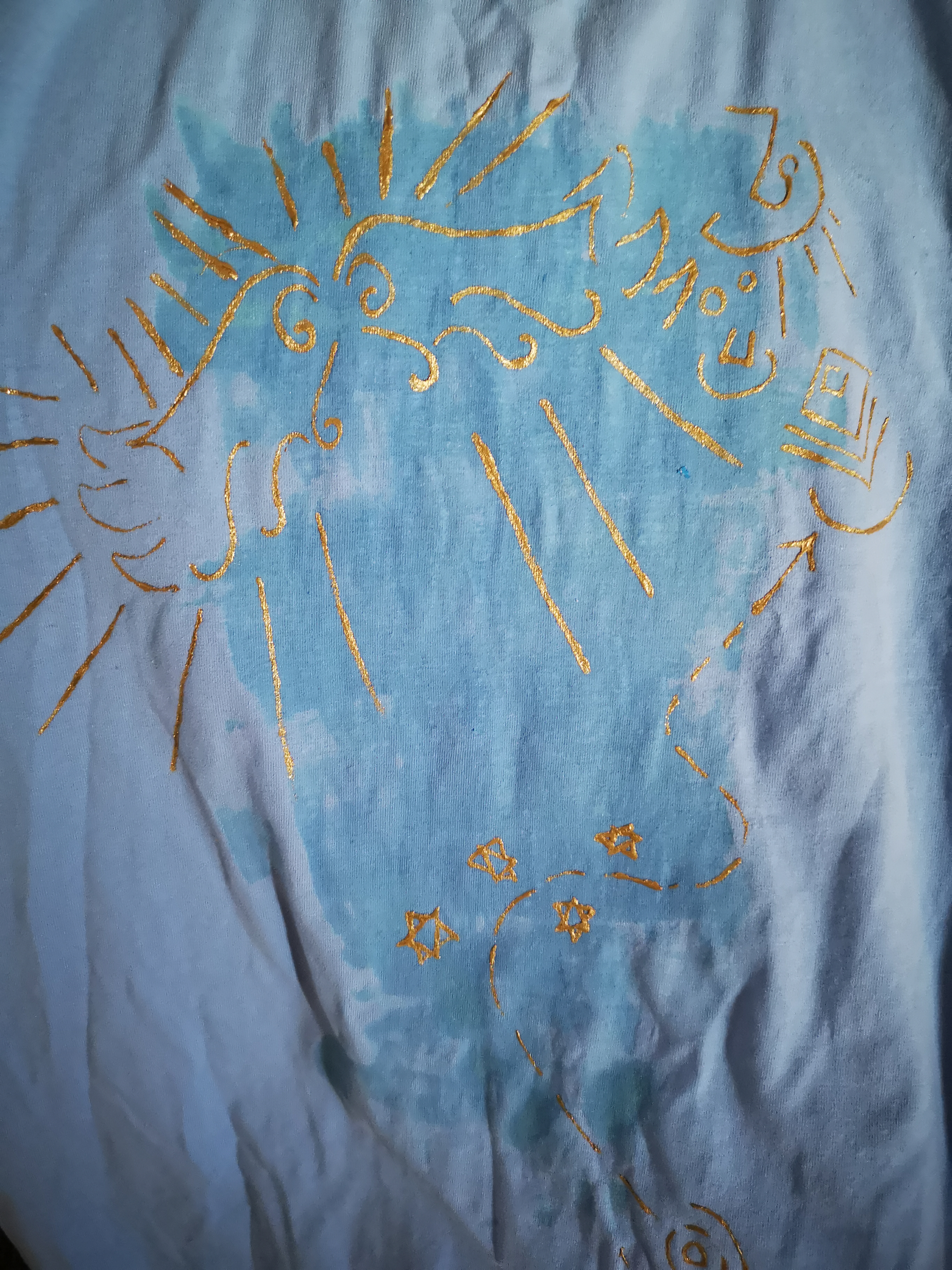 Unique Spiritually Engineered Energetic Pieces
While every piece of art Jaia creates is highly intentioned, the following named pieces have a special energetic quality about them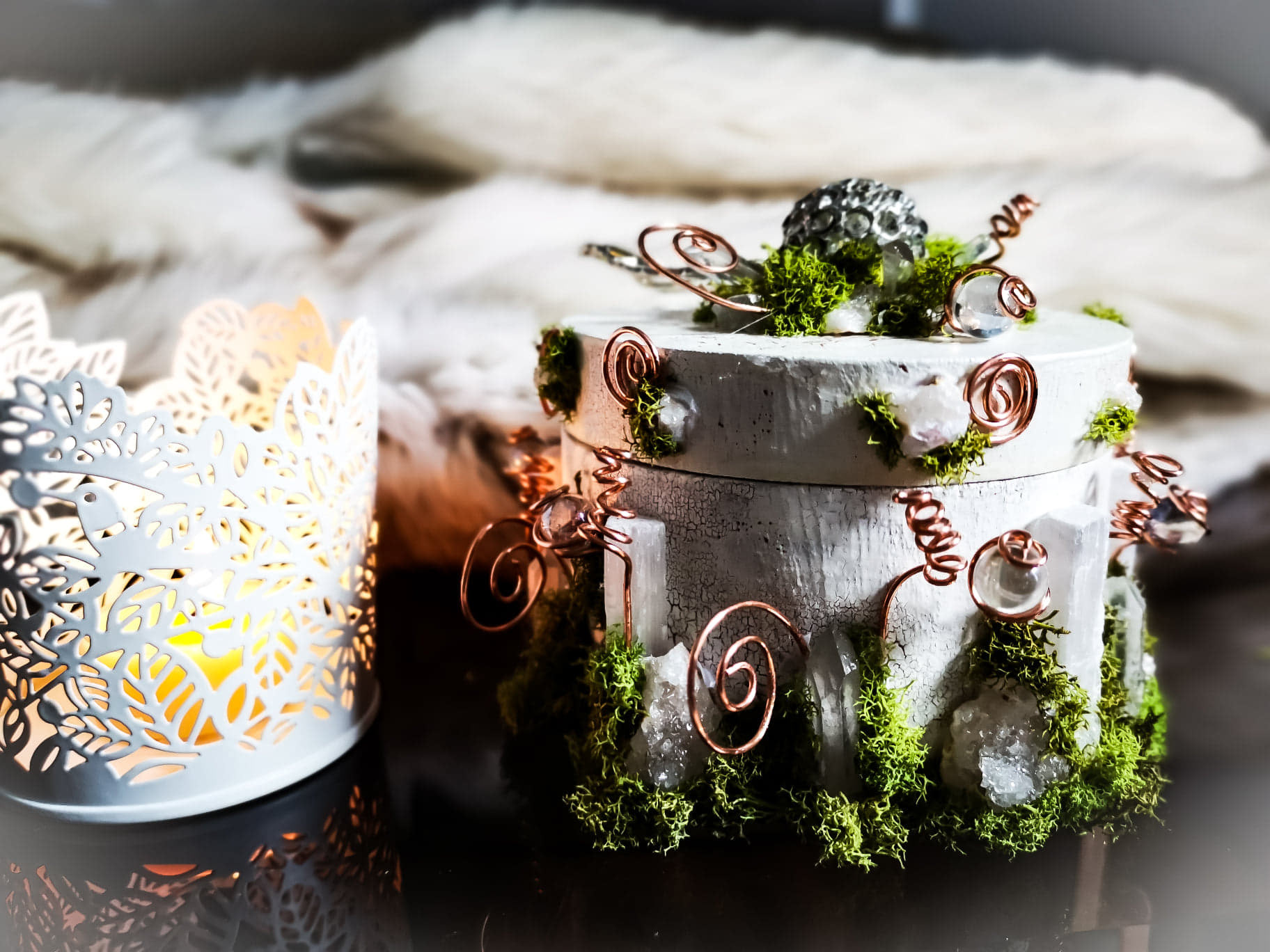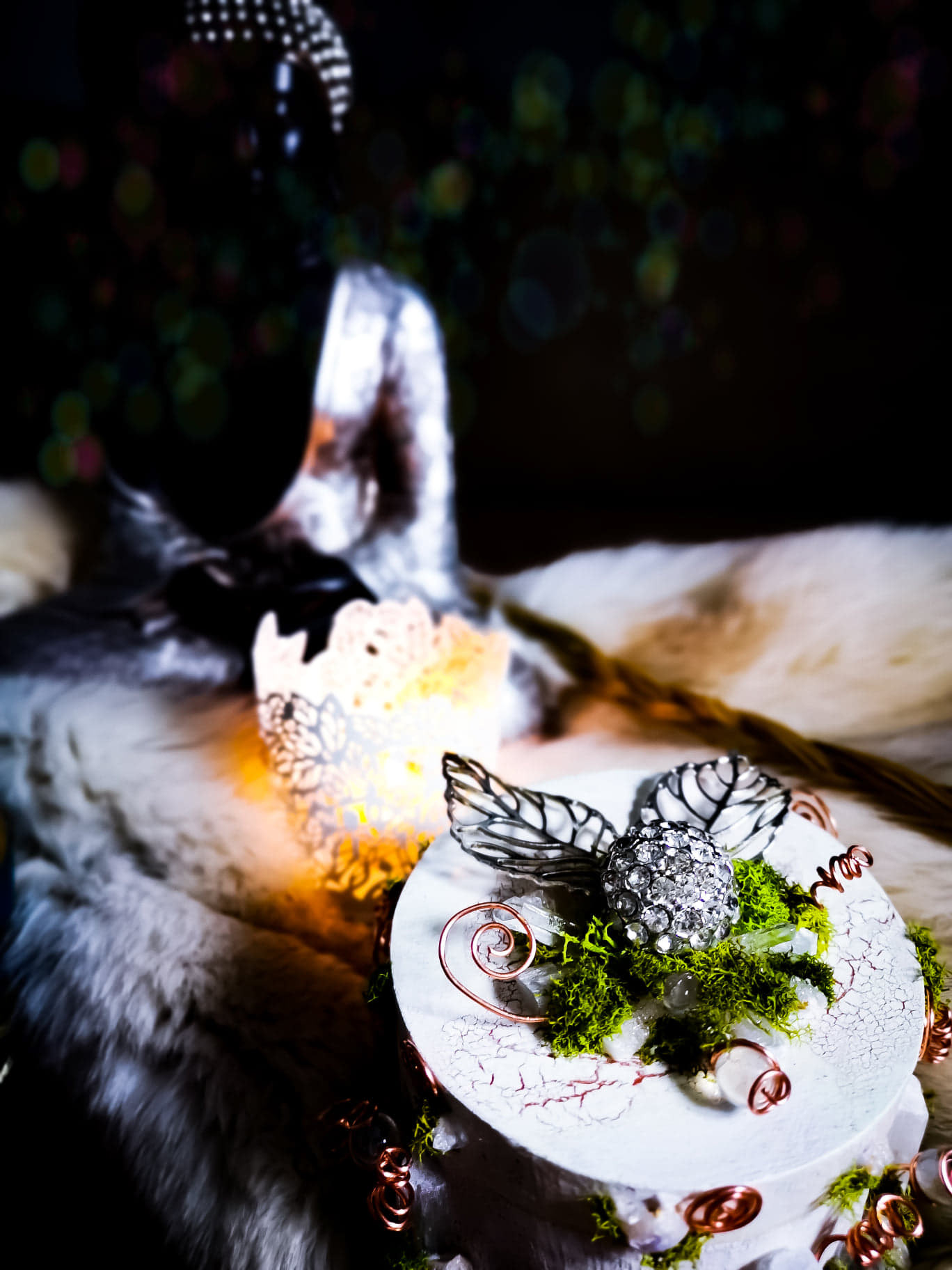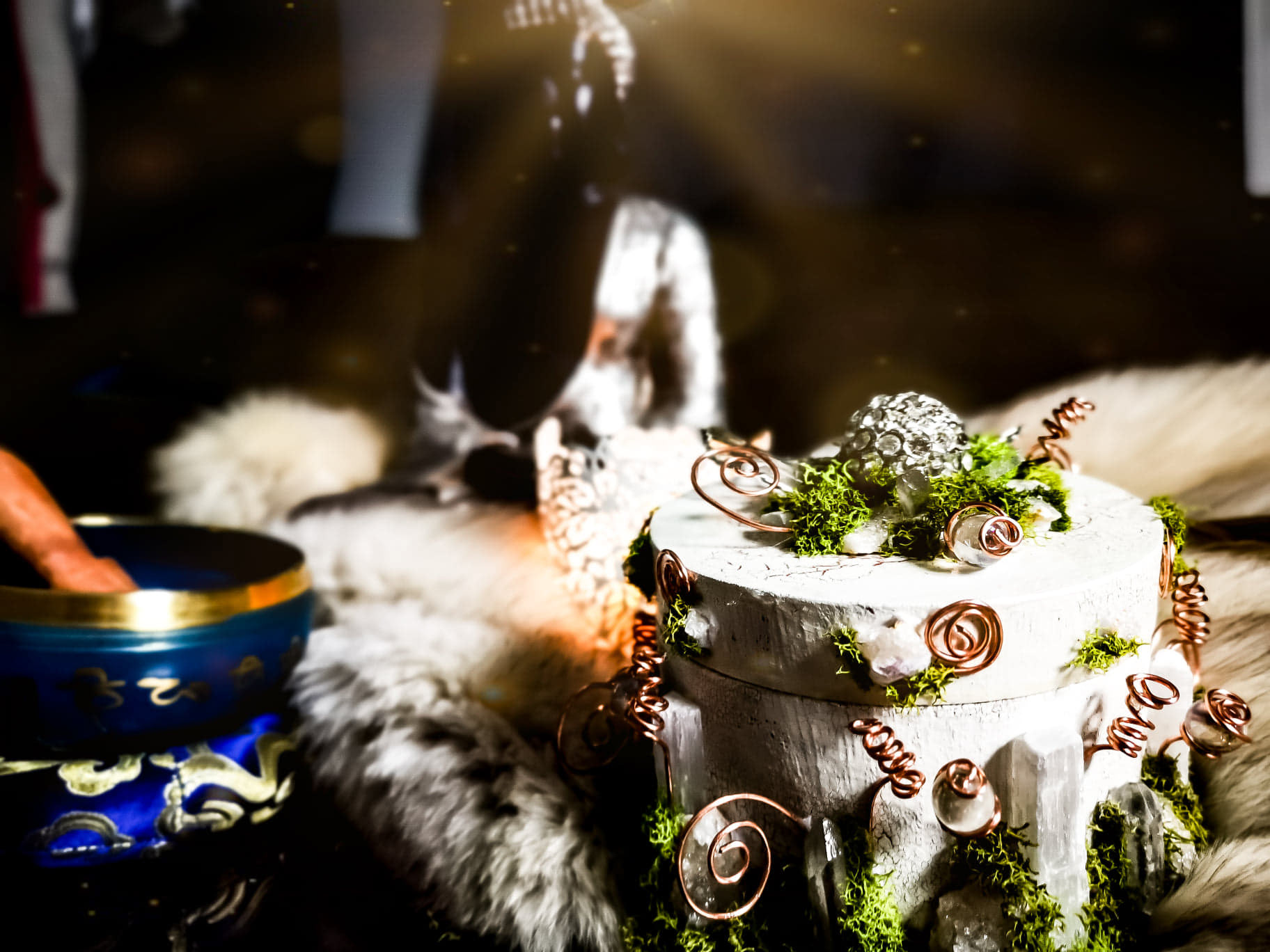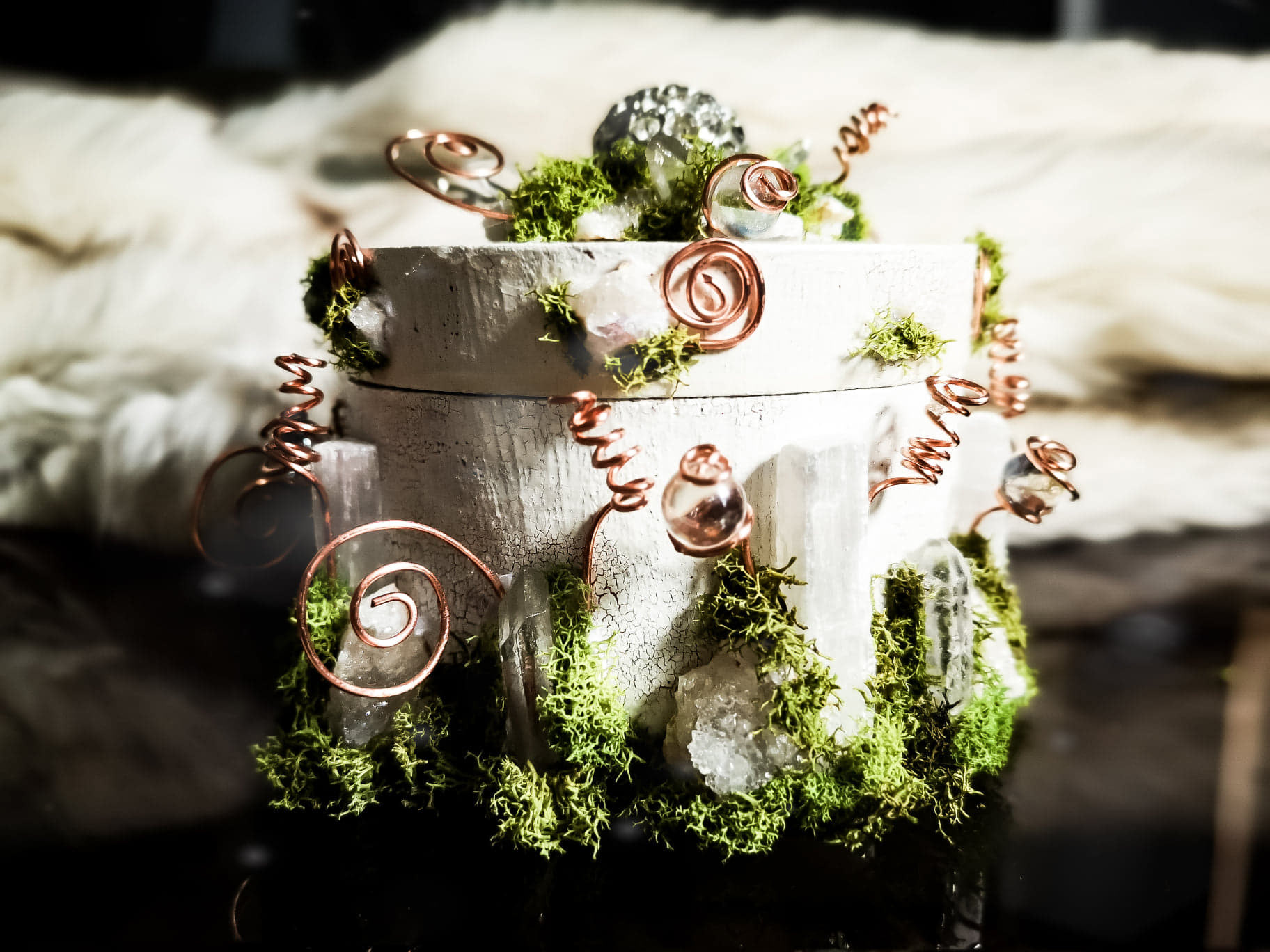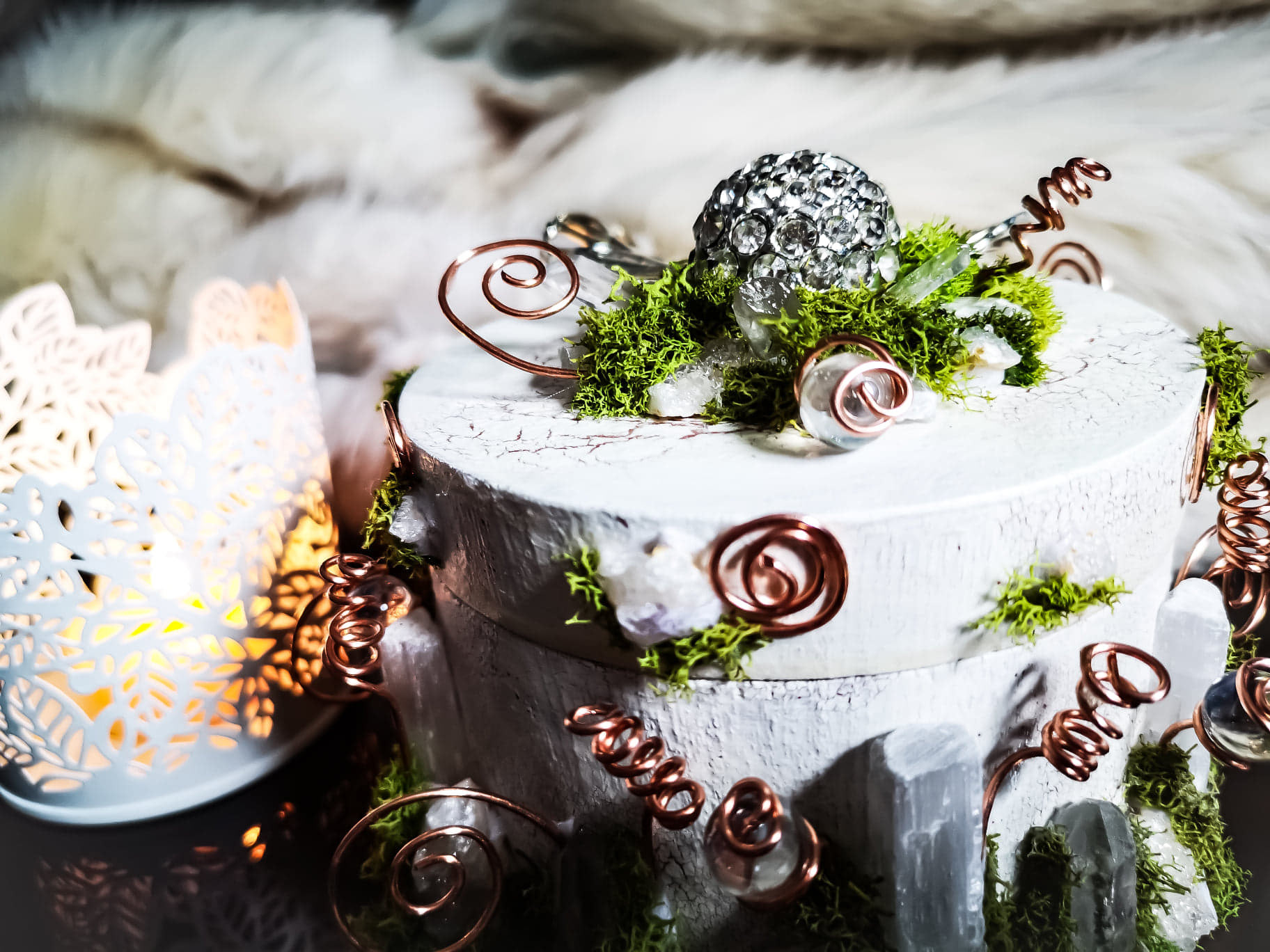 "Manifest Pure Magic"
 This original artisan work was spiritually engineered with the highest intentions to help clear and safely store your semi-precious stones or jewellery and to make manifest your intentions!
Instead of storing your items you may alternatively use the case as a vessel for manifesting your heart's desires! Spirit knows that all of our desires from deep within our soul are simply whispers from our future selves guiding us the way towards fulfillment! Write down your intention and place inside the box to help it become tangible in the physical! You are also encouraged to take full ownership of this manifest container by writing your name, or a word that best describes your highest intention onto the heart within the lid of the box. Your energy fills the space inside and blesses everything within.
This piece has received a powerful gong bath, smudging sage and many blessings. The copper wires have been formed based on Reiki symbols and help to channel and move pure positive energy throughout the piece. The copper swirls inside act as a super charger. All of the semi-precious stones which adorn the outside work to clear and intensify this energy.
An incredibly unique sparkled handle has been securely set into the roof of the box. This represents how special your dreams and desires are, these little gems are like your ideas! Each time you grab hold of the gem laden ball to open it up think about how spectacular and worthy every single one of your creative ideas are. Your dreams each deserve to sparkle too! The leaves on either side remind how you may nurture your desires and grow them into reality by beginning with powerful energetic intentions! Believe it, touch it, feel it, know it... And you will Manifest Pure Magic!
Precious Stones and/or Flora :
Clear Quartz – Focused points cause the energy to move
Selenite – Infinitely clears and purifies the prana circulation as well as clearing neighbouring stones and nature
Quartz Geode - Represents the purity inside us all, cleansing, healing
Milk Weed – Serves as food for the Monarch Butterflys in the wild and christens this energy into a highly transformative food for the soul
Green Moss – Grounding and filtering effect
Numerology: 6, 12 and 1
Astrology: Born on the Cusp of Aquarius and Pisces gives this spiritually engineered piece a very light and pure, loving energy.
SOLD $150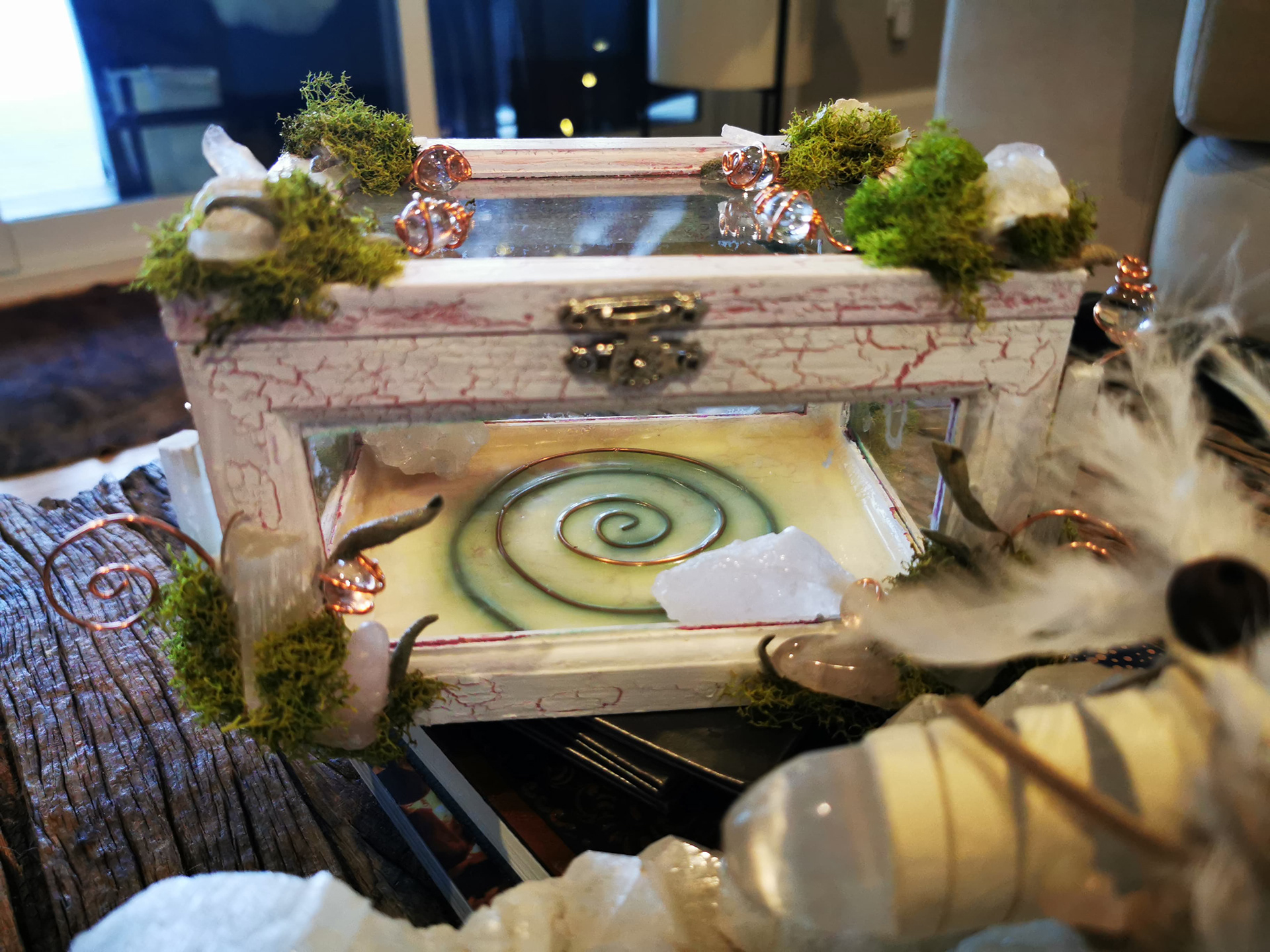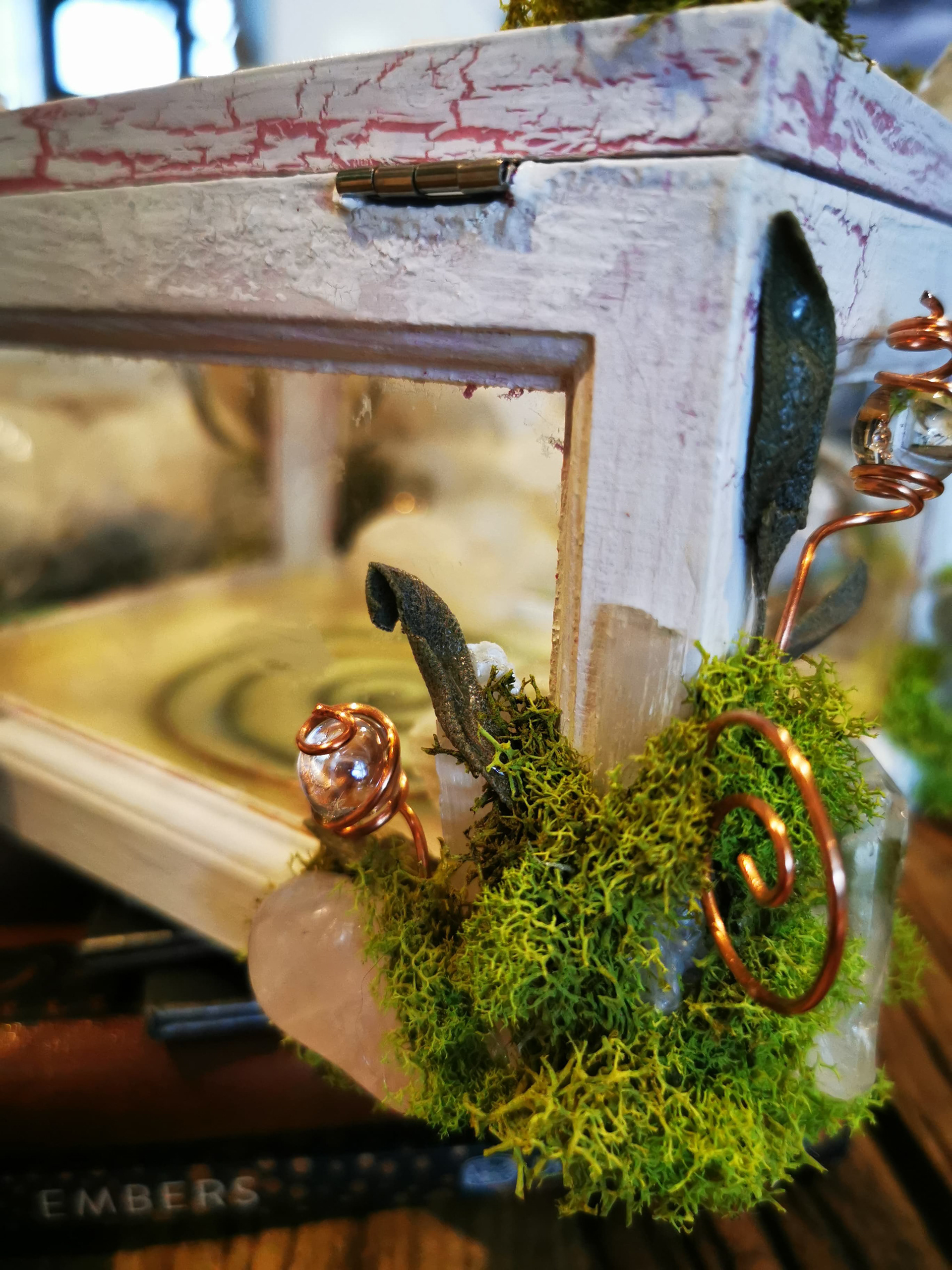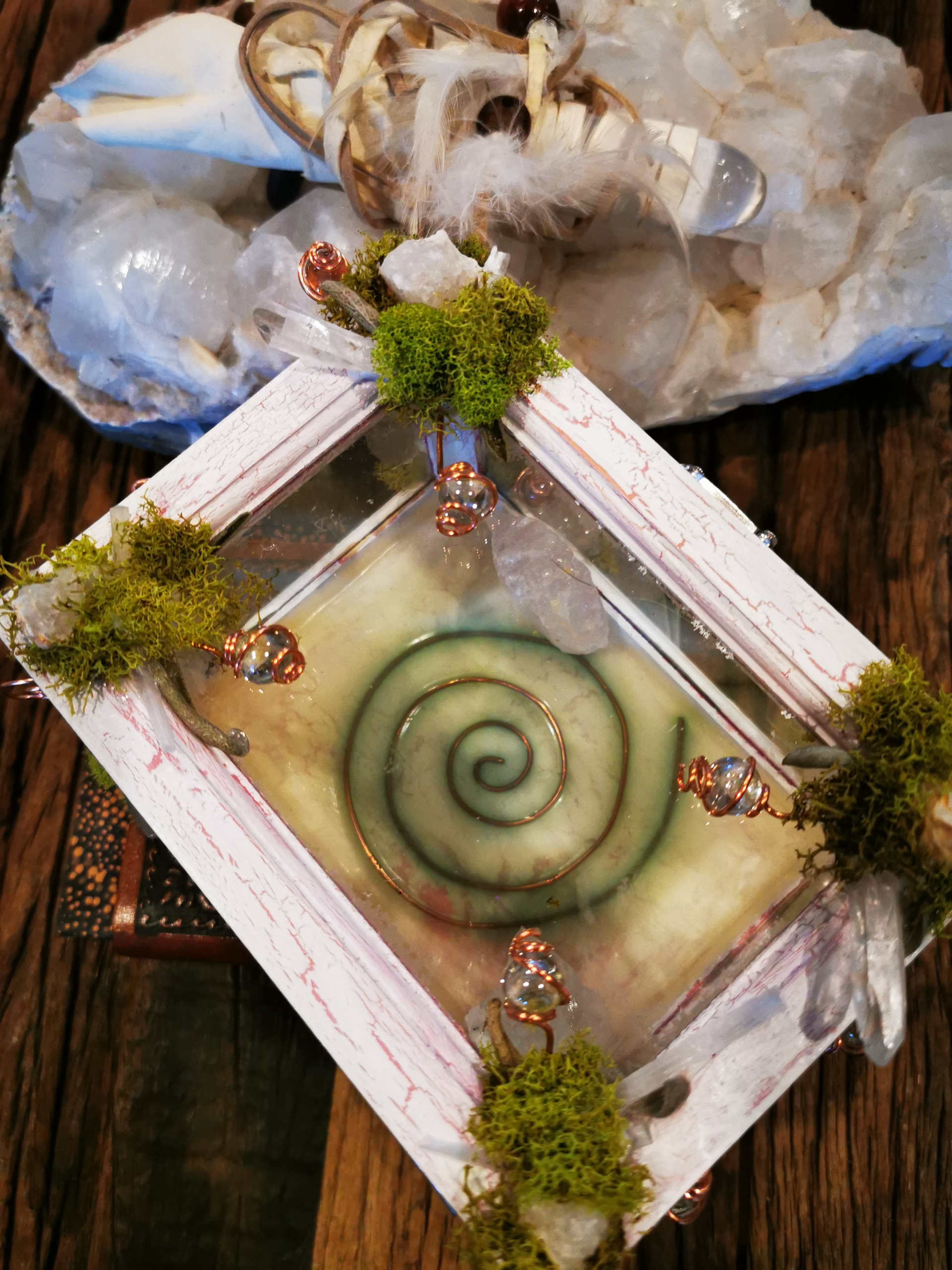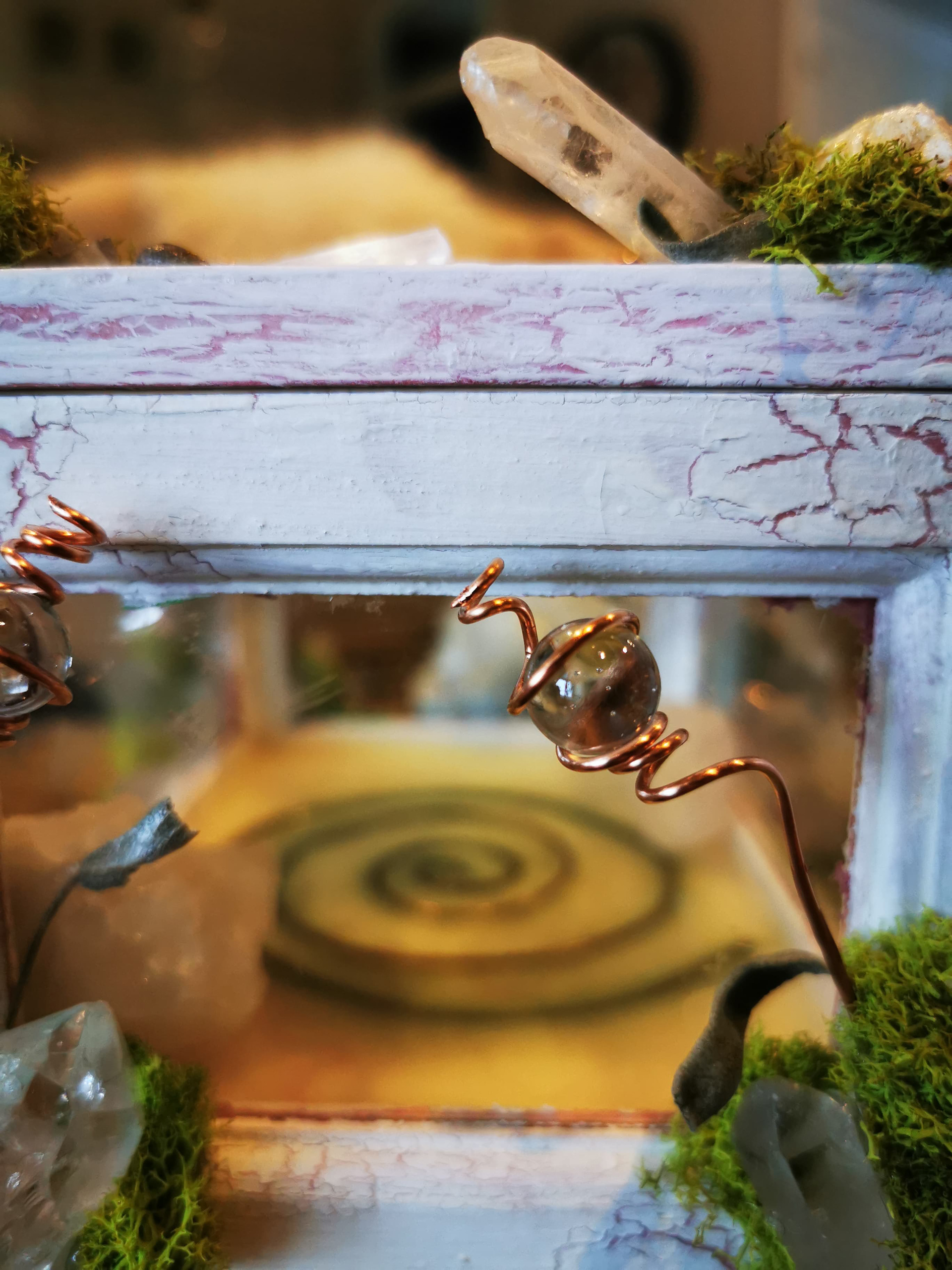 "Aquarian Spirit"
This channeled piece above was made specifically for a special person and it matches their own astrological sign and numerology as well as it works to clear and charge the contents of anything that is placed within the box.  This creation is currently owned and is in a private collection.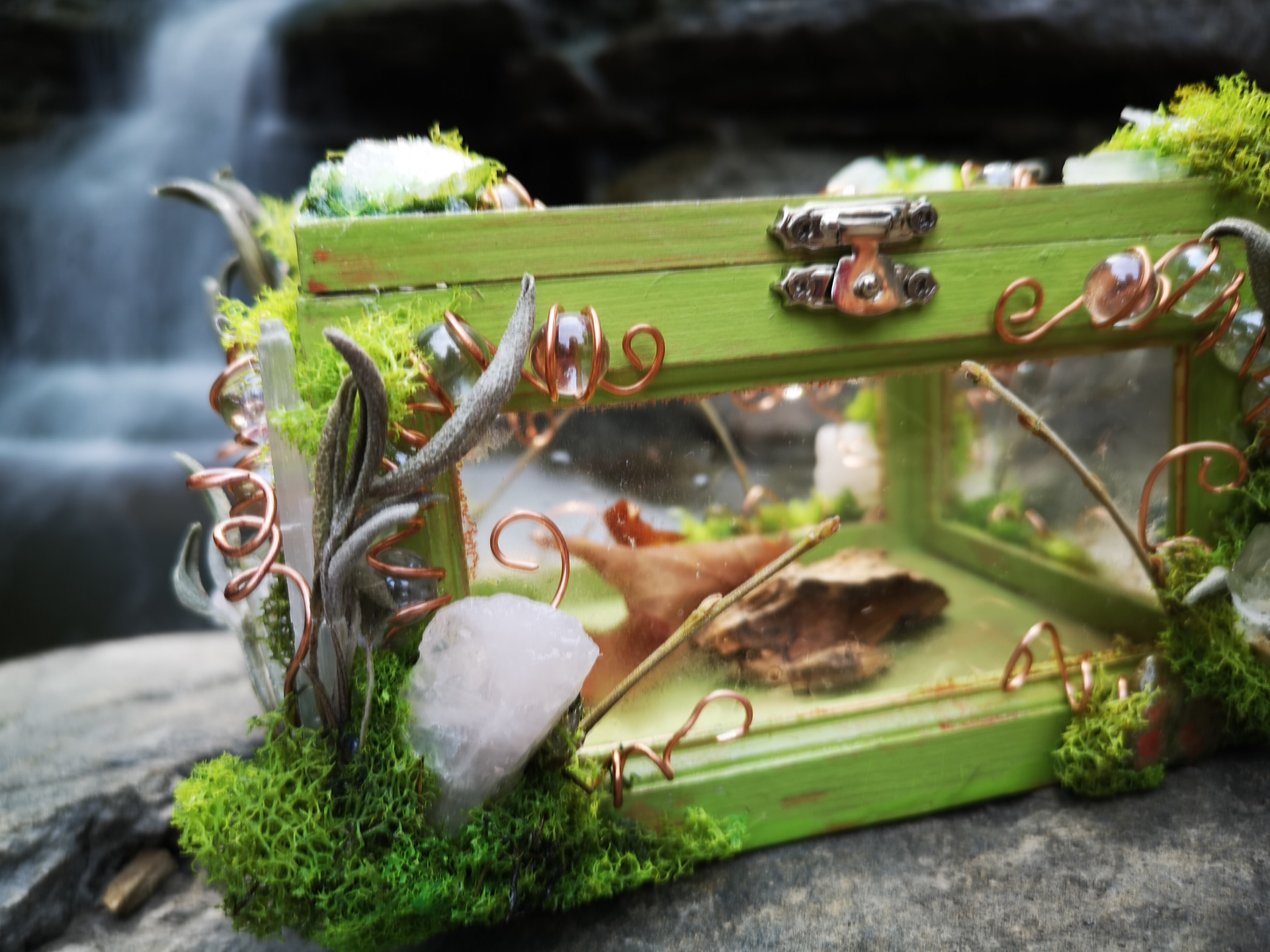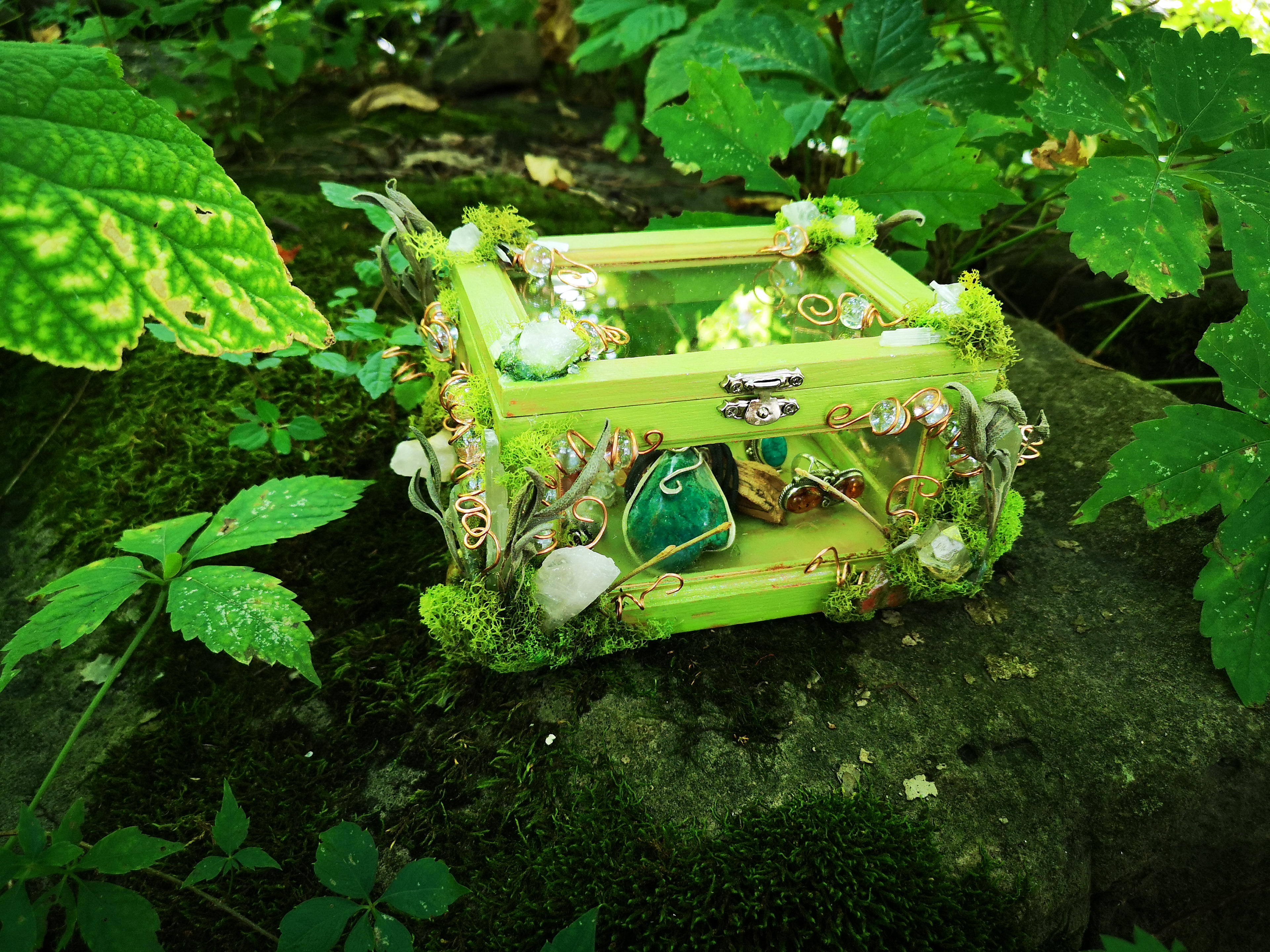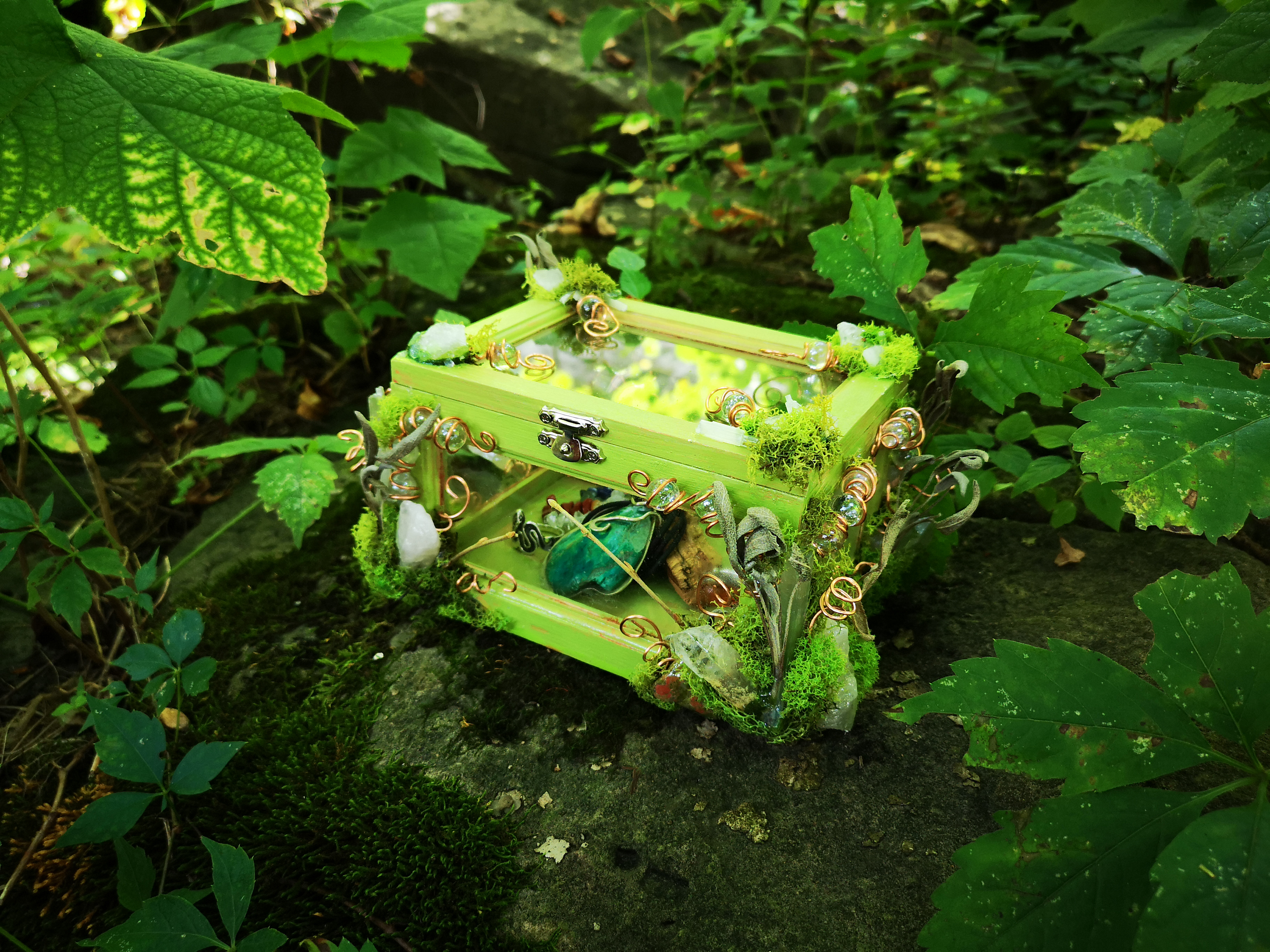 "The Empress"
This original artisan work was crafted with the highest intentions for the new owner to help clear and safely store oracle/tarot decks, semi-precious
stones, jewelry and more!
Ancient wisdom of the great oak tree inspired the creation of this unique piece. Four oak nuts adorn the outside of the box to symbolize the qualities of oak, strength, power, wisdom and endurance.  Reiki inspired copper spirals wrap around the box and energetically work to push the chi through and around it in ways that stimulate intentional clearing of any items placed inside. The large inner coil provides a centered resistant energy force from beneath the objects. Nature, grounding and abundance.  Born in the harvest season The Empress promises to deliver abundance in all things. She represents a divine feminine energy and all meanings associated with her name. Nurturing, stability, pregnancy, opportunity, creativity, beauty, fertility, heart chakra, sacral chakra, green, sensuality, love.
Precious Stones used in the make up of this clearing and storage reiki box:
Clear Quartz – Focused points cause the energy to move
Rose Quartz – Charge the circulating energy with heart chakra vibration
Unakite – Balancing the emotional body, heal the heart. Soft and nurturing nature and a strong grounded connection to the earth.
Selenite – Clears and purifies the prana circulation as well as clearing neighbouring stones and nature
Flora used in the make up of this clearing and storage box:
White Sage leaves – Clears and purify the prana circulation
Green Moss – Grounding and filtering effect